history of Milkyway
Established in the early 1950's as a dairy bar in Old San Miguel, MilkyWay is still a favourite among lovers of good, home-style Filipino cooking. The famous MilkyWay of ice creams, buko lechias sherbet, chicken asparagus sandwich and the best of Pampango cuisine has 2 outlets to serve you in Makati. Aside from the dine-in service we offer at our Rockwell Powerplant and 900 Arnaiz Avenue outlets, we offer our high quality food in take-away packaging. Our goal in MilkyWay is to provide meal solutions: expertly prepared home cooked fare that has been blast frozen and packaged in microwavable and freezer safe containers or vacuum packaging to retain freshness. Our products simply need reheating to be enjoyed. All MilkyWay products are carefully prepared in the Makati central kitchen by the restaurant's original cooks from the 1960's.
the 1960's
The name Milky Way brings back nostalgic memories for many Filipinos. Milky Way was a favorite haunt of the San Beda and Holy Spirit students, Manila's high society and even the Presidents' families since the Malacañang Palace was only a stone's throw away.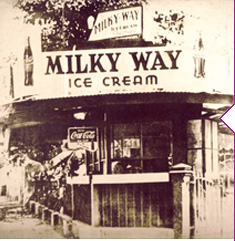 first Milkyway
The original Milky Way Ice Cream Parlor in the old San Miguel district of Manila was first owned by Doña Maria Cartagena de Tomas and her family. When she migrated to the USA, the Araullo sisters bought the rights of Milky Way and started adding selections of their own: dinuguan, chicken asparagus sandwich, Home made cakes and other Pampango specialties. MW then became famous for the "turo-turo" style of service.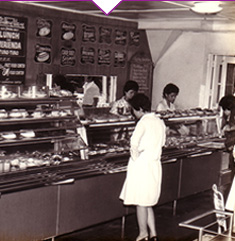 ice cream factory
Milky Way originally served 22 Ice Cream Flavors including Almond and Atis, various sundaes and skyscrapers. Today, Milky Way is most famous for the big and best Halo-Halo topped with our home-made ube ice cream.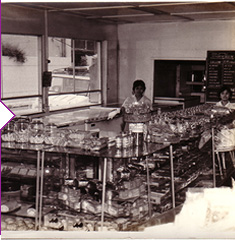 View History Gallery