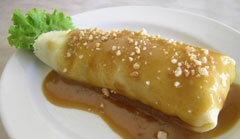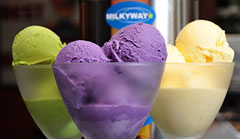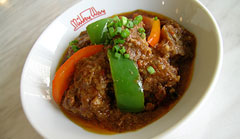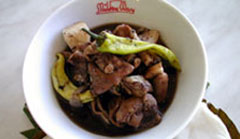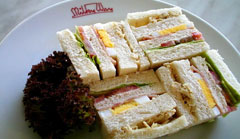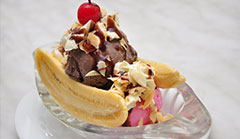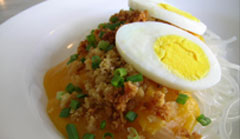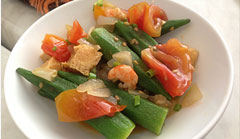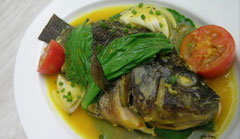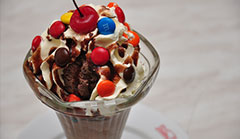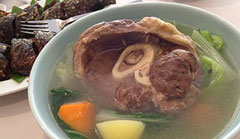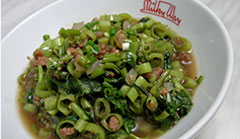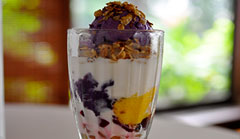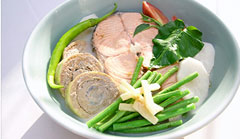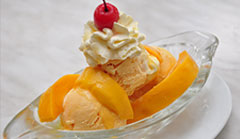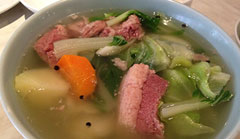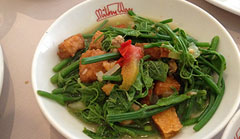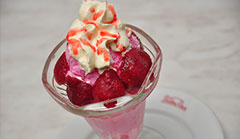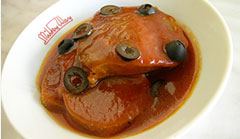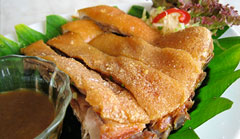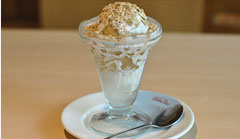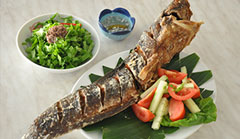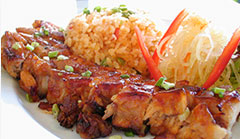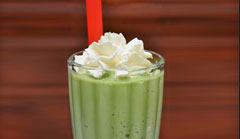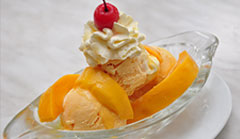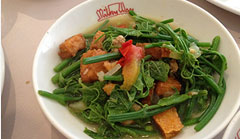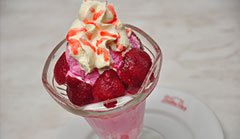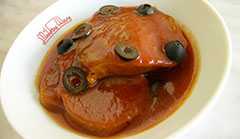 starters-soups-salads
lumpiang ubod

125

1 piece, fresh garlic sauce

tHAI SPRING ROLLS

225

2 pieces, Glass Noodles, Pork, Shrimp,
Mushrooms. Sweet Chili Dipping Sauce

ADOBONG MUSHROOMS

245

Pinoy Style. Garlic, Soy,Vinegar

SIO MAI

245

5 pieces, Steamed Pork Dim Sum.
Soy-Calamansi Dip

KRUPUK

345

Giant Indonesian Prawn Crackers,
Spicy Sambal Dip

MILKYWAY CHICHAROn

185

MilkyWay Atchara

Mangga't bagoong

185

Green Mango, Shrimp Paste
Pancit molo soup

225

Shrimp and Pork Dumplings, Crispy Garlic,
Spring Onions

creamy mushroom soup

185

Garlic croutons

chinese chicken salad

325

Lettuce, Carrots, Shredded Chicken, Crisp Sotanghon, Sweet Sesame Dressing

Salad Mediterranean

395

Romaine, Feta, Tuna, Cucumbers, Tomatoes,Olives, Capers, Basil, Vinaigrette

classic caesar salad

325

Bacon, Parmesan, Croutons

iTLOG NA MAALAT AT KAMATIS

185

Salted Duck Egg, Tomatoes
MILKYWAY MERIENDA SPECIALTIES & SANDWICHES
dinuguan at puto

295

arroz caldo

225

Choice of Goto or Chicken

pancit luglug

225

Savory Shrimp Sauce, Shrimp, Chicharon Bits

Tokwa't baboy

225

Crisp Tofu, Pork, Soy Vinaigrette

mw club sandwich

245

With everything on it
CHICKEN ASPARAGUS SANDWICH

245

Chicken, Asparagus Spears, Tomato, Lettuce, Mayo

CHICKEN SALAD SANDWICH

245

Chicken, Tomato, Onion, Lettuce, Mayo

SHRIMP HAWAIIAN SANDWICH

245

Poached Shrimps, Pineapple Slices, Lettuce, Tomato Mayo

MW DELUXE BURGER

325

Lettuce, Tomato, Onion, Caesar Dressing
with Cheese

375

tuna melt

245

Tuna, Cheddar
cafe cuisine
HAINANESE CHICKEN RICE 445 Quarter Chicken, Broth, Ginger and Chili Sauces
GRILLED HUNGARIAN SAUSAGE 395 Spicy sausage, Fries, Coleslaw
CRISP-O FRISCO CHICKEN 445 Deep-fried marinated Chicken Quarter, Fries, Coleslaw
STEAK ALA POBRe 495 US Beef, Crisp Garlic, Mushroom Gravy, Mashed Potatoes
MW All time favorites
SINIGANG NA BONELESS BANGUS 495
SINIGANG NA sugpo 495
SINIGANG NA baka 395
SINIGANG NA u.s porkribs 495
SINIGANG NA salmon 595
* Tamarind flavored broth, vegetables. Choice of Milkfish, Pork, Prawns, Salmon or US Beef
Adobong softshell crab 745 Softshell Crabs, Taba ng Talangka, Garlic, Kalamansi
corned beef nilaga 595 Home-made Corned US Beef, Potatoes, Carrots,
Cabbage, Pechay
tilapia kulob 425 Whole Tilapia, Tomatoes, Onions, Vinegar, Mustard Greens
LECHONG KAWALI 1,595 From Lechon de Leche, Liver Sauce
ADOBONG SUGPO 525 Prawns, Taba ng Talangka, Garlic, Calamansi
INIHAW NA BABOY 425 Grilled Pork Belly, Atchara
humba 425 Sweet Pork, Banana Blossoms
ADOBONG PUSIT 425 Squid, Squid Ink
OX TONGUE ASADO 525 Tomato Sauce, Beef Tongue
BONELESS CHICKEN BBQ 395 Skewered marinated Chicken (2pcs), Java Rice,
MW Atchara, Special BBQ Sauce
BBQ PORK SPARERIBS 495 Super tender BBQ Pork Ribs, Java Rice, MW Atchara
AMPALAYA GUISADO 245 Bitter melon, Tomato, Onion, Shrimp, Pork, Egg
KILAWING PUSO NG SAGING 245 Banana Heart, Pork, Shrimp
MONGGO GUISADO 245 Mung Beans, Pork, Shrimp, Ampalaya
GINATAANG KALABASA 245 Pumpkin, Alugbati Leaves, Shrimp, Ginger, Coconut Milk
BISTEK TAGALOG 525 US Beef, Onions, Soy Sauce, Calamansi
TALBOS NG SAYOTE GUISADO 245 Sayote Tops, Onion, Garlic, Tomato, Shrimp
pocherong apahap 1,095 Boneless apahap, Tomato sauce , Cabbage, Carrots
Potatoes, Fried saba
CRISPY hito (REG.)595 (LARGE)695 Deep fried Catfish, Tomato-Cucumber Salad,
Mustard Greens, MW Bagoong
CRISPY APAHAP 1,095 Deep fried apahap, tomato-cucumber salad,
patis-calamansi sauce
U.S. Pork Ribs Adobo 425 Garlic, Soy Sauce, Vinegar
PAKSIW NA LECHON 425 Lechon, Liver Sauce
PORK BINAGOONGAN 425 Spicy Pork Stew with Shrimp Paste
BEEF KALDERETA 445 Spicy Beef Stew
KARE-KARE 625 U.S Ox Tail, Goto, MW Bagoong
CRISPY DAING NA BANGUS 625 Boneless Milkfish, MW Atchara
PORK BBQ 395 Skewered marinated pork (2pcs), Java Rice,
MW Atchara, Special BBQ Sauce
BABY CRISPY PATA 1,495 From Lechon de Leche, Liver Sauce
PINAKBET 245 Pumpkin, Eggplant, Long beans, Tomatoes,
Okra, Pork, Shrimp Paste
LAING 245 Gabi leaves, Coconut milk, Pork, Shrimp, Ginger, Chili
ADOBONG KANGKONG 245 Kangkong, Garlic, Onion, Pork, Shrimp, Vinegar, Thai Bagoong
STEAMED APAHAP CHINESE-STYLE 1,095 Boneless apahap, ginger, soy sauce, spring onions, sesame oil
GISING GISING 245 Long Beans, Minced Pork, Coconut Milk, Chili
CRISPY BEEF TADYANG 895 U.S. Short Ribs, MW Atchara, Special Dipping Sauce
pizza & Pasta
EVERYTHING ON IT 525 Anchovy, Onions, Peppers, Garlic, Sausage,
Olives, Capers, Mushrooms, Herbs
SHROOMS PIZZA 525 Wild Mushrooms, Mozzarella, Garlic
PESTO PIZZA 525 White Pizza: Basil Pesto, Olive Oil, Mozzarella, Parmesan
BOLOGNESE * 345 Meat & Tomato Ragu
PESTO VERDE * 345 Basil, Garlic, Olive Oil, Walnuts, Parmesan
NEW YORK STYLE 525 Italian Sausage, Mushrooms, Mozzarella
MARGARITA 525 Basil, Tomatoes & Mozzarella
CARBONARA * 345 Bacon, Parmesan, Parsley, Cream
PUTTANESCA * 345 Spicy Tomato sauce, Capers, Olives, Anchovies, Parmesan
* Served on your choice of Spaghetti, Fettucine or Angel hair
palamig & desserts
OLD-TIME FAVORITES
MILKY WAY HALO-HALO 225 The best since 1962! Leche flan, preserved fruits,
ube, pinipig, milk
MILKY WAY GINUMIS ICE CREAM 225 Homemade Panutsa Ice Cream, Sago, Gulaman, Pinipig, Coconut Cream
MILKY WAY MAIS CON HIELO 175
MILKY WAY SAGO'T GULAMAN 175
MILKY WAY BUCO LECHIAS SHERBET
(2 scoops) 225
MILKY WAY ICE CREAM 225 Chocolate, Vanilla, Strawberry, Mais, Avocado, Mango, Langka, Cheese, Macapuno, Ube (2 scoops)

TOPPINGS 55 Mini Marshmallows, M&Ms, Chocolate Syrup, Strawberry Syrup, Whipped Cream, Crushed Pineapple, Sliced Almonds, Macapuno, Ube, Leche Flan, Pinipig, Sweet Corn
ICE CREAM SUNDAES
CHOCOLATE SUNDAE 295 2 scoops Chocolate Ice Cream, Chocolate Syrup, Whipped Cream, M&M's, Cherry
STRAWBERRY SUNDAE 295 2 Scoops Strawberry Ice Cream, Strawberry Syrup, Whipped Cream, Fresh Strawberries
SKYSCRAPER 325 2 scoops Vanilla – Strawberry Ice Cream, Strawberry Syrup, Sliced Pineapple, Sliced Banana, Whipped Cream, Cherry, Sliced Almonds
THE MILKYWAY BANANA SPLIT 325 Ube, Avocado and Macapuno Ice Creams, Banana, Whipped Cream, Chocolate Syrup, Sliced Almonds, Cherry
BANANA SPLIT 325 Chocolate, Vanilla and Strawberry Ice Cream, Banana, Whipped Cream, Chocolate Syrup, Sliced Almonds, Cherry
MANGO SPLIT 325 3 Scoops Vanilla-Mango Ice Cream, Fresh Mango, Whipped Cream, Honey
MILKY WAY FAMILY FAVE 1,295 12 scoops of Milkyway Ice Creams - Mais, Avocado, Mango, Langka, Cheese, Macapuno, Ube; Leche Flan, Macapuno, Langka, Sweet Corn, Pinipig
ICE CREAM SHAKES & FLOATS
THICK MILK SHAKE 225 Flavors: Chocolate, Vanilla, Strawberry, Avocado, Mango
ICE CREAM FLOAT 225 Vanilla Ice Cream with Coke or Mug Root Beer
MILKY WAY ICE CREAMS, AVOCADO, UBE AND CHEESE FLAVORS 595 Half gallon (For take out only ) Styro gift box available
75
Ube with Macapuno 225


Leche Flan 175


COFFEE JELLY 195


CHOCOLATE TRUFFLE CAKE 245 Per slice
* Prices are subject to change without notice.
hot coffee
lavazza coffee 145 Regular or Decaf
Espresso / double 145/195
cafe mocha 175
capuccino 175
cafe latte 175
cafe vienna 175
iced drinks
Real Brewed Bottomless Iced Tea (by the glass) 125
Coke, Coke Light, Sprite, Sprite Light, Royal 95
San Miguel Pale Pilsen, San Mig Light 120
San Miguel Premium 150
Bottled Water 75
Teas by the Pot: Earl Grey, English Breakfast, Chamomile, Lipton 125
Perrier 165
Badoit (750ml) 225
fresh fruit drinks
Apple, Dalandan, Watermelon, Mango, Orange, Pineapple, Lemonade 165
Calamansi, Dayap 125
fresh fruit smoothies
MANGO A-GO-GO 225 Fresh Mango, Orange, Pineapple, Milk and Ice
DALANDAN AND APPLE COOLER7 225 Fresh Dalandan Juice and Apples blended with Ice
pbb 225 Peanut Butter, Banana, Milk and Ice
BANANA SPLIT SMOOTHIE 225 Banana, Strawberry, Milk, Chocolate, and Ice
house wine
glass / bottle 245 / 1,500
house spirits
Bailey's, Jack Daniels, Fundador, J & B Rare, JW Black Label, Absolut Blue, Citron or Kurant, Stolichnaya, Tanqueray, Cuervo Gold 295
party food by milkyway
Available for take-out. Please order in advance
Pancit Sotanghon at Miki Guisado 1,450 per foil pan / serves 20
Cheesy Macaroni 895 per foil pan / serves 5-6
Lasagne al Forno 895 per foil pan / serves 5-6
Assorted Milky Way Sandwiches 1,095 per tray / 28 triangles
Dinuguan 1,500 per half gallon
Puto for Dinuguan (12 pcs) 160
Chicken Lollipops 1,670 40 pieces
Mini Pork BBQ 1,800 40 pieces
Steamed Dumplings 1,520 40 pieces
Croquetas with Chicken and Ham 1,600 40 pieces
Corndogs with Ketchup 2,100 40 pieces
Chicken Gallantina w/ Potato Salad 2,575 serves 10-12
Fresh Lumpiang Ubod with Garlic Sauce 1,500 20 pieces
Lumpiang Shanghai with Dipping Sauce 1,200 40 pieces
Thai Spring Rolls with Dipping Sauce 1,980 20 pieces
Milky Way Fruit Salad, Buco Pandan, Buco, Bacon Potato, Chicken Macaroni, Japanese Spaghetti or Macaroni Supreme 1,425 half gallon
MILKY WAY ICE CREAMS, AVOCADO, UBE AND CHEESE FLAVORS 595
Half gallon

* Prices are VAT Inclusive. We add a 10% Service Charge. Thank you.
* Prices are subject to change without notice.